CONTURA V, A CUSTOM TEXT ROCKER ONLY
CONTURA V, A CUSTOM TEXT ROCKER ONLY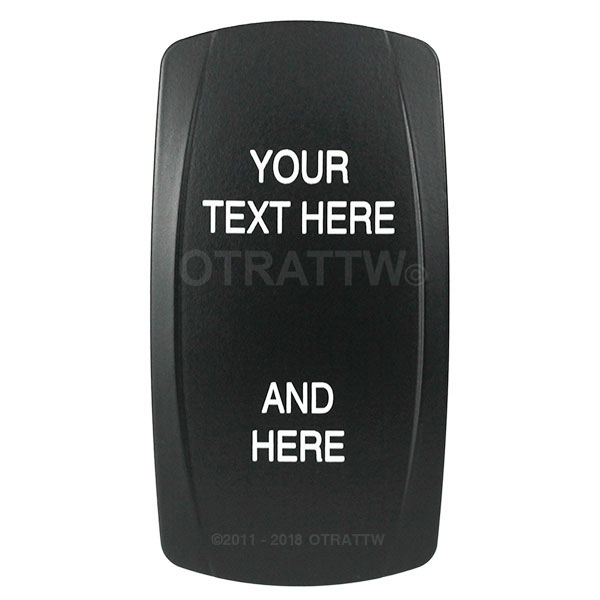 NOTE: This rocker is for text only. If graphics are to be substituted please inquire via contact form for pricing.
Custom text: Maximum 2 lines on top, 2 lines on bottom, and 10 letters/spaces per line
Rocker only, switch body not included. Switch body required for a complete switch.
Compatible with V-series OTRATTW and Carling Technologies switch bodies except the raised base Contura X and XI.
Also compatible with Daystar and sPOD switch bodies. Will need modification to fit Daystar and Rugged Ridge panels (NOT compatible with Rugged Ridge switch bodies). Step by step instructions here.
All rockers are tested on OTRATTW/Carling Technologies switches before shipping. Our Carling Technologies Contura V rockers are not compatible with S-Tech, or "CE" labeled Chinese manufactured rocker switches.
Optional VRT: Easily change out your rockers/actuators with this removal tool.
.
Details
Customers also bought
Customer feedback
Rocker Dimensions
1.912 (length) x 1.020 (width) in.
48.56 (length) x 25.91 (width) mm
There have been no reviews


Only those who bought this product are allowed to add review
If you've already bought this product, please sign in and add your own review!