L-SERIES, TEXT ONLY, LOWER INDEPENDENT LEDs
L-SERIES, TEXT ONLY, LOWER INDEPENDENT LEDs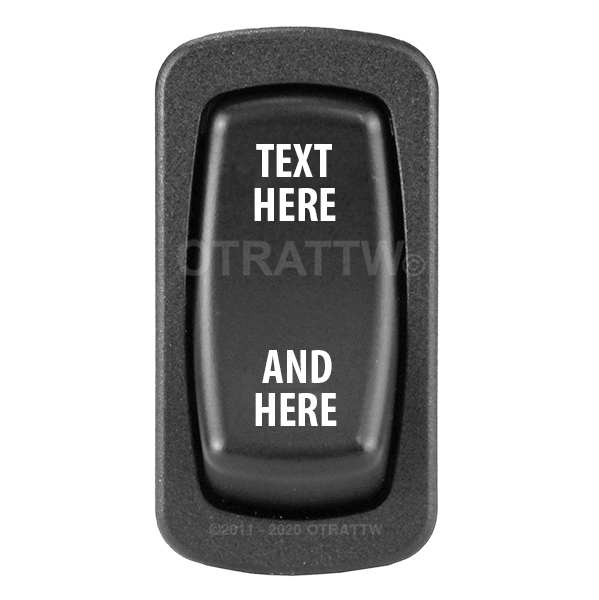 Custom text: Maximum 2 lines on top, 2 lines on bottom, and 7 letters/spaces per line
DPDT ON/ON switch. NO CENTER "OFF" POSITION
Lower LED is independently wired. Upper LED is ON when upper part of rocker is pressed on.
Rated 20A 12V
No rear barriers between terminals. LC1 housing connectors can be used with Packard 630 terminals. LC1 connector and terminals are sold separately.
Insulated 1/4" female quick disconnect terminals can also be used.
Details
Customers also bought
Customer feedback
Seal Protection
Locks out elements such as water, dust & debris. Certified to IP67 for front panel components.
Switch mounting
Fits into industry standard mounting hole of 1.734 x .867 in [44.0mm x 22.0mm].
Panel Thickness Range
Acceptable Panel Thickness
.030 to .156 (.76mm to 3.96mm)
.030, .062, .093, .125 and .156
Switch Depth
Switch only from base to terminal end - 1.75 inches
Switch with LC1-01 attached - 2.38 inches
Switch dimension
Base with rocker installed - 1.97 X 1.02 inches
There have been no reviews


Only those who bought this product are allowed to add review
If you've already bought this product, please sign in and add your own review!