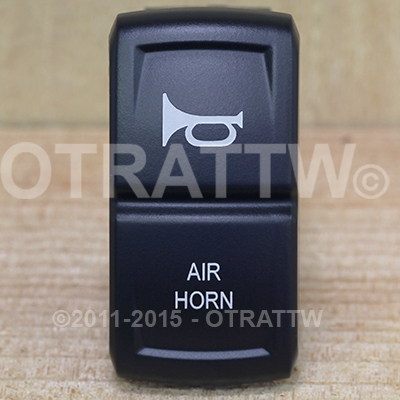 CONTURA XIV, AIR HORN, LOWER LED INDEPENDENT
SPST (MM)ON/OFF switch.

Red/Red

LEDs

Upper Red LED is ON when the upper part of the rocker is pressed ON. This will light up the symbol area.
Lower Red LED is independently wired. If connected this will light up the text area.

Rated 20A 12V

No rear barriers between terminals. VCH housing connectors can be used with Packard 630 terminals.

VCH connector and terminals are sold separately.

Insulated 1/4" female quick disconnect terminals can also be used. This is a 5 terminal switch

Push for momentary ON, returns to OFF position when released.
Custom text: Maximum 2 lines, and 10 letters/spaces per line